Shifting the Data Conversation
By Sameer Gupta, Chief Analytics Officer, DBS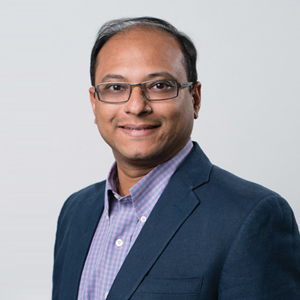 Sameer Gupta, Chief Analytics Officer, DBS
The data challenge for leaders has shifted significantly from the days of simply not having enough of it. Organisations are sitting on vast amounts of data and are accumulating more by the day – both structured and unstructured. Instead, the challenge for leaders is how to make that data relevant to their organisations in a way that shapes strategy and drives business performance.
My industry, banking, has been on a decades-long data journey. Banks invested through the 90s and 2000s in data warehouses, tools and processes. The initial use case for this data was mainly around reporting – and reporting though important - is fundamentally backwards looking. Most of the data was relational and structured. Over time, the use of data evolved to becoming more predictive of customer behaviour, making sense of structured and unstructured data.
Today we have lots of data and the buzzwords being discussed in boardrooms - machine learning and artificial intelligence. To thrive in this new paradigm we need to change our technology infrastructure and leverage new skillsets such as data science, natural language processing and behavioural analytics, among others, to understand the customers' journey and drive engagement.
Having the right tools is one thing but data analytics and machine learning in a silo is just a science experiment. In my opinion the most significant agenda item for CIOs and executive teams today is how to operationalise data and machine learning at scale. To do that requires four key elements.
Outcome Focus
Too often the mindset has been that if only we buy the shiniest new tools and hire the best data scientists, our organisations will somehow transform themselves.
That conversation needs to shift from being tools to outcomes driven. What are we trying to achieve as an organisation? What metrics do we need to track and capabilities do we need to build to help us achieve those outcomes?
Data Culture
Enterprises will not feel the benefit of their investment in tools and expertise if they do not build a culture of thinking about what is possible with data.
Over time, the use of data evolved to becoming more predictive of customer behaviour, making sense of structured and unstructured data
That culture starts at the top. In many cases, unlearning needs to take place at senior levels so that executives understand the right questions to ask and outcomes to focus on. But it can't stop there. To scale the tools, training and frameworks need to be put in place so that data driven decisions are being made across the organisation. Leaders need to adopt a learning mindset where they are comfortable with continuous data led experimentation to improve outcomes.
Governance vs Enabling Data
Traditionally data governance in banks, and many other organisations, has been focused on restricting access to data. After all, banks are built on trust, and we have seen that the wrong use of data can have a significant impact on consumer perceptions in other sectors.
The problem is that innovators do not always know what data they need to derive customer insight until connections have been made and insights derived from those connections. Governance processes have to evolve such that they enable the data to be discoverable and encourage experimentation but crucially maintain standards of stewardship that do not risk the trust customers have placed in us.
The question for leaders is how can we empower our teams with the right access to the right data at the right time for the right people?
Technology Infrastructures
We need to invest in the right set of capabilities that go beyond just tooling to drive exponential outcomes. In addition to having a highly cost effective and powerful computing capability this requires steps like standardising metadata, training employees in how to access data, and putting responsible data stewardship structures in place.
We need to look across our business and understand how do we enable it for high-end computing? What is the right mix of cloud and internal capacity? How do we encourage experimentation at low cost at low effort? How do we enable the right security levels? Only then will we, for example, be able to build the right feedback loops for promising new technologies such as machine learning and AI.
Building Learning Organisations
There has been much discussion around data-driven organisations, but I think the challenge for leaders is more profound than that – it is about creating learning organisations.
In a learning organisation, data analytics ceases to be about finding the silver bullet that solves all of my business problems. Rather it is about starting small, building in feedback loops, iteratively innovating and improving products and outcomes for the business and its customers.
This experimental, iterative, approach, across the organisation, that operationalises data analytics at scale is more akin to starting a snowball at the top of the mountain that incrementally builds momentum over time.