The Inherent necessity of Big Data as a defining strategic factor
By Esteban Remecz, CIO Asia Pacific, ZF Group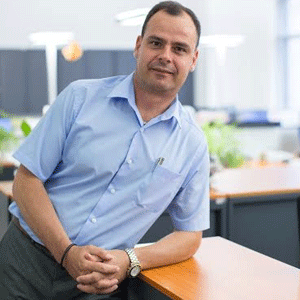 Esteban Remecz, CIO Asia Pacific, ZF Group
Evermore we hear about Big Data in today's technology publications; in many cases it may just sound like another buzz word or yet another marketing initiative from any of so many technology solution providers. In fact, in many cases it simply is. However more and more and also as a result of the new technology disruptions Big Data is gaining an ever increasing strategic relevance.
Big Data Analytics have been walking together with us ever since statistics and demographics became a necessity in defining policies, legislations and regulations; the economic, health, environment and social policies are all in a way a precursor and also direct result of Big Data.
Today however, the biggest differentiator is Big Data Analytics lies in the industry where companies, segments are focusing now more than ever in deriving, intelligence, completive edge by means of optimization or efficiencies and competitive advantage to name a few. The added complexity and ever increasing ubiquity i4.0 with its defining factor IoT and the ecosystem in which the IoT anchor in whatever industry we look at, makes Big Data Analytics as a necessity for business as a value adding differentiator either as a mean to obtain insights and thus actuate on optimizing or improving internally with e.g. employee experience or supply chain, or externally with increased market penetration or improved customer relationships always with the focus on adding efficiencies and revenue by its impact on business.
How Big is Big ?
Whereas by definition Big Data refers to the necessity of evaluating and actuating on the analysis of large amounts of data, there are many practical examples that don't necessarily need to reach the "Weather Forecast" modeling size to deliver significant and actable insights for cost effective applications. This is the case for the Retail and Manufacturing industries. In these cases most of the time the association made to Big Data Analytics is in regards to Customer Behavior and Marketing initiatives, however the quickest Big Data benefits may come from inside their own operations which may deliver results before its necessary to look for the benefits from sources outside their door.
Quick wins may be made by simplifying and optimizing processes in the logistics and supply chains and at the same time evaluating the production maximizing their output. By collecting and evaluating structured and unstructured data from the existing internal databases and data warehouses or by collecting logs on specific events, relatively simple analytics can then give insights to conduct e.g. predictive maintenance to minimize downtime, optimize warehouses as well as capacity and service planning.
Big Data Analytics have been walking together with us ever since statistics and demographics became a necessity in defining policies, legislations and regulations
In fact I most of this cases Big Data Analytics is nothing else than the next step in the evolution redressing of BI associated now with the requirements of the exponential growth of Data generated by i4.0 and IoT. These disruptors in the Industry make it now necessary to address the aggregation of the data in a way that it translates into aggregated value.
Big Data in the New Automotive Industry of the Connected Vehicle
Already before the race into the Autonomous Driving has started inside the Automotive OEMs and definitely inside the successful OEM supplier, Big Data was already playing a key role in defining their success.
With the disruption through the megatrends of the Connected Vehicle and Autonomous Driving, the whole automotive industry and not just OEMs is now facing the challenge of not only transforming itself from a but also to appeal to consumers on how to delivering new products, new services based on new technologies all of which at the core, are digital and themselves and which generate data a scales that we have never seen before. At the same time the automotive industry is additionally being disrupted by the entering of new players, who in many cases belong to and are in many cases are top players of digitally native industries. All of which will combine also with required infrastructures and ecosystems which will drive the V2X connectivity required to enable the interaction in many cases in real time, of the new digitally enabled automotive ecosystems. Based on this factors and requirements, the connected car ecosystem report forecasts estimated that Big Data and Analytics technology investments in the automotive sector would reach $5 Billion by 2020. This is an estimate that as we progress in time and approach the deadline could easily be over showed if additional factors such as government legislation or other service industries which will be derived from the new technologies become part of the equation.
In this context and compared to the previous examples, Big Data and Big Data Analytics completely takes on new meanings. It is also for this reason that it is at no surprise that the introduction of AI on board the connected vehicle finds its way as a key player and core element in the evaluation and actuation on the Big Data Analytics value chain. In fact in many cases it will be only through AI and its enhanced analytical, data processing and learning capabilities, that self-driving vehicles will be able to efficiently interact with their surroundings whilst simultaneously making sense of all the data sets continuously being streamed from the vehicles on-board sensors.
The shape of their success however will in many ways be linked to how well they are able to manage process, actuate and realize value out of the enormous amount of data. For this a much more robust and mature Big Data Ecosystem will be determinant.
In today's world there is virtually no industry or service which could not derive a benefit from Big Data Analytics, the key is to make data work with dependable, actable and value adding insights. In the automotive industry the ability of master data and its hidden treasures is now becoming also a determinant in the differentiation in the ever increasingly complex completive industry.
Be it for more simple supply chain, logistics or production optimization, enhanced market intelligence and customer interaction or delivering more efficient and dynamic models for the automotive industry trend disruptors, Big Data is more and more playing an instrumental role as a value adding differentiator.
A key element to succeed with Big Data is to begin with an early adoption sustained with a roadmap reflating all necessary strategic and budgeting initiatives to deliver the business cases. It is also like this how obstacles, internal or external can be.