Analytics Leadership: An Artform, as much About Science
By Suyog Kulkarni, Head - Data Analytics, Sharekhan by BNP Paribas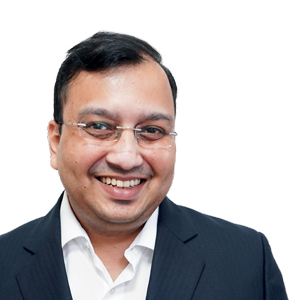 Suyog Kulkarni, Head - Data Analytics, Sharekhan by BNP Paribas
Knowledge is power. Well, from a classical physics lens; knowledge can be more appropriately termed as force. 'Work' happens when 'Force' meets 'Displacement' – which in our context is 'Business Impact'. Rapid advances in technologies around storage, processing power and information transfer have enabled data and analytics to emerge as a strategic business asset for corporates; and a critical component of this force. Displacement is about, driving the adoption of analytics across diverse functions and at various levels within the organization - to unleash this force and leverage the true potential of data analytics.
While the force dimension is a "science", the latter – about adoption is more of an "art form". I believe this makes it imperative for the analytics leader to wear different hats - as a scientist and as an artist whenever applicable, to ensure that analytics is impactful!
Science of Data Analytics!
The science dimension of data analytics can be best represented as a pyramid. Data compilation would be the base. Analytics would sit on data as a range of quantitative techniques. The real value would come through the business use cases that form the top of the construct, articulated through business translation. Let's take a quick peep into each of these.
Data – The Foundational Layer
For many domains, and very true of financial services; business models have become omnichannel. Clients are served through both human channels - the typical branch network and digital channels. Business goals of operational excellence, customer delight and continued market leadership make it crucial to have effective decision support structures.
These decision support structures feed on data from multiple streams – core transactional applications, digital assets, application capture systems, CRM solutions, etc. Data teams hold the responsibility to create enterprise data lakes that ensure availability of the single version of truth across multiple sources. It's vital to give due importance to aspects of data quality, integrity and protection.
Analytics - Fractional Distillation of Data through quant models
The view that data is the new oil resonates very well when we see the complete data value chain as a fractional distillation process. At the lower-end of technique complexity, it would be descriptive analytics to understand 'what happened'.
The view that data is the new oil resonates very well when we see the complete data value chain as a fractional distillation process
The next level—predictive analytics is to build propensity models to estimate likelihoods and recommend actions. The aim is to gain insights into 'why' – and which factors were relevant. The highest levels would be the ones involving self-learning and near fully automated decision making— moving towards artificial intelligence.
Use Cases and Business Translation
A use case-based approach focuses on business impact - not stopping at just the efficiency of analytical models. The identification of business use cases and translating the same to data scientists is a key ingredient of successful analytics projects. Mckinsey calls it "business translation".
Typical use cases in omnichannel financial services would be about customer level strategy for regulatory as well as marketing objectives like activation, enhancing client relationship value, cross-sell and up-sell, and winback from dormancy. Advanced metrics of customer affinity scores and lifetime value are used to adopt targeted efforts, rather than broad brush approach. Digital footprint data of clients and segmentations are used in the design of digital products on apps and websites to improve customer experiences.
Data Analytics - An Artform!
Many analytics initiatives remain just quant successes, with no significant business contributions. Here is where skills of analytics leaders are put to test to ensure that analytics does not operate in silos. It has to be well connected to the respective business teams, enabler functions like IT and others – which work together to deliver business value.
Creativity in Communication Skills
The analytics leader interacts with CXOs and the board to present capabilities of analytics for potential business impact. Business leaders may have different levels of data analytics understanding. On the other hand, their own analytics team may be a bunch of high energy millennials with brilliant technical skills but not yet senior enough to fully grasp the big picture. The ability to adjust communication style to audience and ability to abstract complexity to make the final deliverable simple is key. Data visualization to communicate the patterns and insights most effectively shall also fall here.
Team Player – Influencing through Interdepartmental Partnerships
Any analytical project does not stop at pure insights. To achieve impact – increase revenues / reduce costs / enhance customer experience, it depends on diverse departments for executing recommendations– IT, operations, call centers, digital assets, and branch networks. These teams may have their own KPIs, some of which may seem different from the goals of the analytics project. The analytics leader has to ensure he has everyone on board and they are all aligned with the big picture.
Passion, patience and strategic agility
Many analytics projects follow a 'research' type of methodology and may take time to show results. . At the same time, there has to be strategic agility to keep projects on hold due to changes in the immediate business priority or if any initiative is not the best use of resources.
Conclusion:
The critical success factors for the data analytics journey of any organization fall under both the dimensions—science and art form. The analytics leader must do a fine balancing act between being a scientist and an artist as per the context to ensure that the journey is impactful! Typically, at the start, when the organization embarks on the analytics path—the adoption oriented, "artist" role is more relevant. When the analytics maturity of the organization evolves, many adoption-related factors become business as usual and the "scientist" role becomes pivotal!