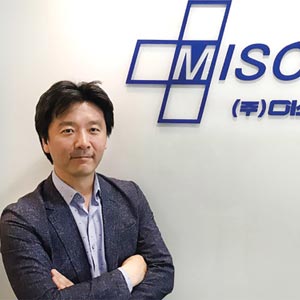 DongUk An, CEO
The world is exploding with massive digital data in newer unstructured data formats, making it difficult for different industries to make sense of it. Miso Information Technology, a South Korean big data expert company, provides artificial intelligence (AI)-based analytics solutions and Business Intelligence (BI) service. The company's broad array of analytics solutions take into account comprehensive data, including that from social media, helping different industries—such as manufacturing, healthcare, finance, and public sector—gain deep insights into their data and improve outcomes.
MISO's comprehensive range of solutions is aimed at data gathering, analytics, visualization, and performance monitoring. To elaborate, the company's SmartCDW, a clinical data warehouse solution, helps in analyzing unstructured data easily. The solution optimizes the balance between memory-based analysis and healthcare-specific analytics technology. It also provides healthcare data search and visualization capabilities after the analysis. Several hospitals in South Korea are leveraging SmartCDW to extract insights from their healthcare data (which is mostly unstructured).
Further, MISO's SmartVIEW solution offers widgets for users to visualize the insights in a graphical format. Another solution, SmartFDC, aids clients in tracking the faults and uncovering the reasons behind them by gathering and analyzing real-time data from the manufacturing area. Besides, MISO's big data specialists have developed a unique tool to extract structured data from unstructured documents by detecting patterns in them.
The company also offers SmartSPIDER to gather social media data from the Internet based on specific keywords relevant to the user.

Winner of 2019 Smart-City Ministry of Land in South Korea, MISO caters to a vast and diverse clientele. With the efficient solutions at its disposal, MISO assists giants like Samsung Electronics, LG Electronics, and Dosan Infracore, among others. Impressed by the massive capabilities of MISO, Daewoo Engineering & Construction, one of the biggest construction companies in South Korea, selected MISO as its analytics partner to solve some of its pressing problems. The construction major wanted assistance in tackling the decision making errors and the concomitant losses. MISO provided the right solution to that end, and the results were astonishing. While it took 21 hours to review 123 data for an engineer to deal with the overlapping and conflicting technical data, MISO's solution reduced it to 4 hours, a remarkable 5-fold increase inefficiency. Besides, Daewoo achieved a dramatic increase in daily work efficiency because of increased precision in workflow execution.

Founded in 2006, MISO has remained passionate about solving the increasingly complex big data challenges and is building new solutions consistently to address the same. "We have been releasing at least two solutions every year to address the evolving needs of the different industries," says DongUk An, CEO of Miso Information Technology.

In the near future, MISO plans to introduce two solutions, SmartTA, an unstructured text analytic solution, and Smart AI, an AI framework. Leveraging natural language processing (NLP), SmartTA analyzes and classifies different types of text and documents to turn them into useful information. It optimizes the balance between memory-based visualization with NLP. It can be utilized in many different business fields, such as analyzing Voice of Customer, contract document analysis, healthcare habitat analysis, and more. The company's next-generation, automated analytics solution, Smart AI, aligns with the user needs and guides users to make decisions within a complicated business environment.

Moving ahead, MISO is planning to expand its business globally. The company has already developed a partnership with three advanced technology and security companies from Russia. Furthermore, it aims to release prototype solutions and grow together with them by having a gradual connection and proof of concept.