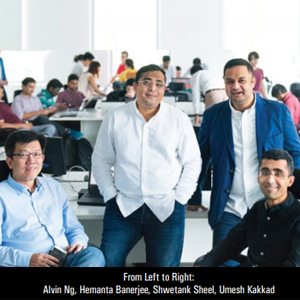 Hemanta Banerjee, Founder & Chief Architect and Shwetank Sheel, Co-Founder & Managing Consultant and Umesh Kakkad, Co-Founder & Managing Consultant
With the onset of COVID-19, most organisations have had to rethink their existing architectures, especially those who have their data architecture on-premises. This has opened up conversations around looking at migration options into the cloud. This is where Just Analytics steps in. Having a strong passion for data and a desire to share it globally, the company is helping organisations migrate and modernise their data platforms. "Founded by data architects with extensive experience across a broad range of technologies, and a team of certified consultants, it has always been our mission to empower organisations for navigating the digital world with agility, adaptability, and dexterity," says Hemanta Banerjee, the Founder and Chief Architect at Just Analytics.
To understand where the customer stands in terms of data literacy, Just Analytics offers an assessment to help them see how they can take it, literally and figuratively, to the next level. Afterwards, the company breaks down its approach to executing any project into three phases: Discovery to define an organisation's needs and understand its existing landscape; Accelerator to develop the required prototype with the help of its Accelerators, and finally, Deep Dive to secure the solution in place. "Our tried-and-true Data Accelerators have significantly cut down the time and in return, the cost required by projects that we have handled," states Banerjee.
With proper guidelines, governance controls, and assurances, carefully curated for everyone to follow in their team, Just Analytics specialises in creating a Target Operating Model Process Document that data analysts and data scientists can follow while creating their own reports and models. "As a people-first organisation, we are helping to ensure long-term growth as digitally transformed organisations through enablement workshops for employees to learn about new technology," mentions Shwetank Sheel, the Co-Founder and Managing Consultant at Just Analytics. The company's approach entails a RACI Matrix which is used to understand who is Responsible, Accountable, who needs to be Consulted and who needs to be Informed for each activity described in the project. This is project agnostic and is applicable to all projects as part of Just Analytics' delivery process.
"When we talk about our implementation of BI for an organisation, we not only help create reports and the underlying data models, but we also prepare a Target Operating Model Process document where after an initial assessment of your current ASIS architecture and upon further discussing with Business and IT stakeholders, we publish certain guidelines and governance controls to be circulated within your internal BI team," says Sheel. Just Analytics' team will start off a clients' BI journey by helping create a couple of reports and models, but, in most cases, the end users are the ones who will be responsible for managing them, for creating their own reports by connecting to external data sources and further publishing them in PowerBI. Hence it becomes paramount to have a set of definitions, BIA Lifecycle, governance controls, and assurances to make sure these reports can be scaled out in the entire organisation. Adding to that, it is also important to have clear roles and responsibilities defined, standards on what data can be brought into the data platform and how to monitor the data quality and report lineage. "As an example, we have defined three trust levels for reports and datasets where we have termed Sandbox for those which use ungoverned data sources and are not meant for widespread production usage. Promoted is used for a user who creates and releases his or her own reports after they are signed off by the Centre of Excellence or COE team, and finally Certified where data is sourced from governed data sources such as SAP BW—where there are no manual interventions in the dataflow." Sheel adds.
Founded by former Oracle data architects and a team of certified consultants, it has always been our mission to empower organizations for navigating the digital world with agility, adaptability, and dexterity
What differentiates Just Analytics is its years of industry experience, right from traditional Oracle data technologies to newer cloud ones such as Azure Databricks, Azure Synapse and Power Platform. "As tech experts who are offering service as a product, we are providing clients with scrupulously curated solutions and people training. In the long run, this enables them to do their projects independently and sustainably," states Umesh Kakkad, the Co-Founder and Managing Consultant at Just Analytics. In one of the recent projects with a leading manufacturing organisation in Singapore, the company facilitated a fundamental transformation in the way the employees work. This was the first Power BI Premium implementation in Singapore. The company's charter was to create a core team of Power Users within the organisation who can lead the charge for data-driven decision-making. "We met the requirement through a tailored governance and enablement plan for Power Users," adds Kakkad. With different teams spread out globally, the organisation requires a way to connect and effectively collaborate. By helping them with Power BI and enablement workshops via Microsoft Teams, Just Analytics enabled the client to successfully run their business as usual, despite everyone being in different continents.
The case is a testament to the reputation that Just Analytics has built over the years by helping numerous clients. The company recently celebrated its second consecutive win as Microsoft Singapore Intelligent Platform, Data and AI Partner of the Year, and third consecutive win as Microsoft Vietnam Data Analytics Partner of the Year. As they strive to enrich companies across South East Asia to become more data-literate, the company has strategically located its offices in Singapore and Ho Chi Minh, Vietnam, with its headquarters situated in Singapore. Looking ahead, Just Analytics would like to position itself as thought leaders in the Data and AI space providing transformative solutions for organisations across APAC. "Keeping this vision in mind, we have plans on expanding in the Philippines in the coming years," concludes Banerjee.