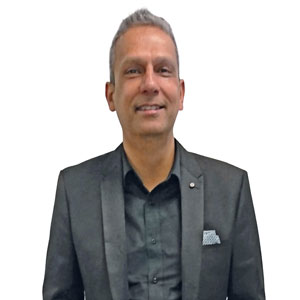 Vinay Samuel, Founder & CEO
Vinay Samuel, Founder & CEO, Zetaris at times finds it difficult to believe the feats his company has achieved. Since the organization's humble beginnings a few years ago, when Samuel anticipated that big data will be a game changer, Zetaris has come a long way. "I could see the potential for where Big Data, IoT and Edge Computing could go, so setting up Zetaris was one of the right bets I made five years ago, and we are reaping the benefits today," says Samuel.
Prior to establishing Zetaris, Samuel observed the approach of tier 1 banks, telcos, retailers, airlines, and companies to deal with large datasets. He found out that those companies had to build physical data lakes or warehouses to bring data from different parts of their business together for analysis. Samuel wanted to bring all the data together on one platform making it easier to manage, organize, and process. Utilizing his experience of two decades in the industry along with the knowledge gained from working with various data platform startups, Samuel formed Zetaris.
Zetaris offers the capabilities of data fabric technology simplifying and integrating data movement and management, delivering hybrid cloud and on-premise data services for data access and control, data quality and protection, data visibility and insights. Their Enterprise Data Fabric platform enables users to solve queries or perform analysis using machine-learning algorithms across different data sources without moving the data.
Zetaris brings an enterprise database and analytics platform that allows organizations to link and analyze data in real time saving huge cost and eliminating time-to-market issues.
Zetaris eliminates the need to bring data together physically through data fabric technology, delivering data access & control, quality & protection, and visibility & insights
The platform offers a full suite of products for enterprise digital transformation, with two key modules— Zetaris Lightning and Zetaris Alchemist. Lightning is the enterprise data fabric facilitating connection and analysis of an unlimited choice of end points and application ecosystems, while Alchemist is the analytical workflow engine/analytical data visualization tool. Lightning utilizes the best of the open source ecosystem integrated with its cutting-edge query optimization and extreme processing capability to enable interaction with any data tool. On the other hand, Alchemist sits on top of Lightning and empowers the customer to build the data products and analytics even if they do not have any technical knowledge.
These solutions have fostered Zetaris to resolve data access and analysis related concerns among leading tier 1 organizations like Westpac. Westpac, a global institutional bank wanted to offer their merchants the best data analytics capability and was struggling with mass-scale of data at hand disjointed across multiple databases, departments, and security measures. Westpac did not want to employ convoluted data cleansing tools, coding in Java or run scripts in Hadoop and other technologies. Zetaris' Enterprise Data Fabric offered advanced analytics and data visualization support to the bank and allowed them to build data products by just pointing and clicking. "With Zetaris, Westpac could join all its data across the bank in real-time, increase its data quality with query optimizers, and make it available to its customers using Alchemist," mentions Samuel.
He sees massive expansion opportunities for Zetaris in terms of ongoing development of its pre-built analytical products and the increase of their online marketplace availability. With the launch of its freemium product—as Samuel calls it—Zetaris wants to educate the world about its technology and approach towards data analytics. This will enable the data scientists and analysts to leverage the technology, while providing users with an easy-to-use collaborative reporting tool to share the insights from data across their enterprise.
In 2017, Zetaris generated revenue in the multiples of 10x from the prior year, and to further add to these numbers, Zetaris' expansion to South East Asia is already successfully underway, with America to soon follow by the end of the year. In the next three years, Zetaris envisions becoming a billion-dollar company from a $100 million company.